Christmas Kindness Advent Calendar is a fun way to get everyone in the family involved!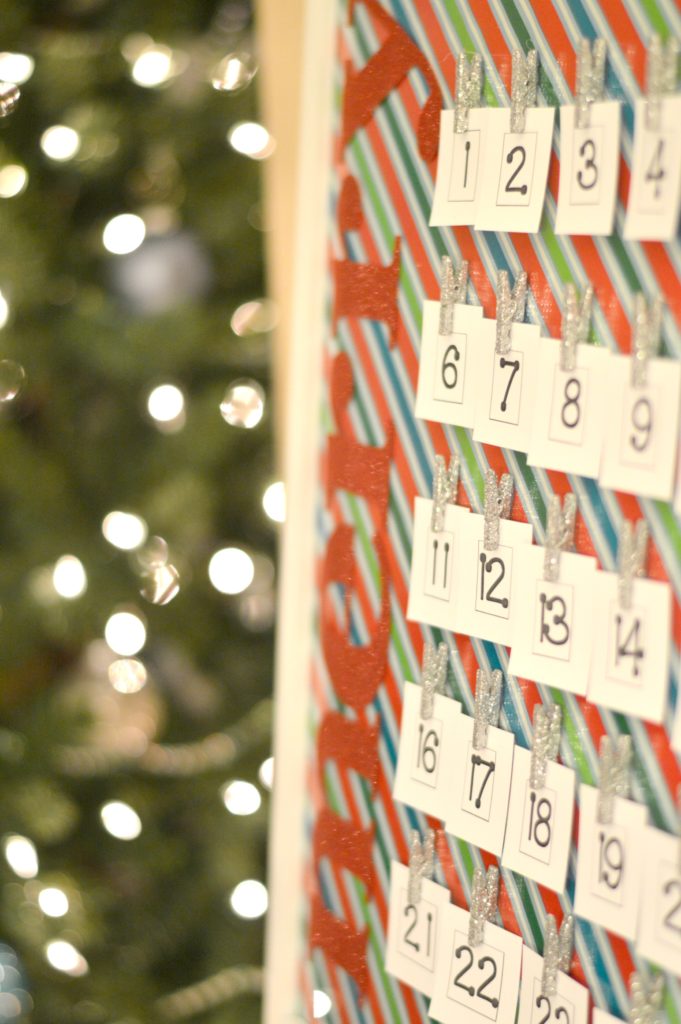 The heart of this came from my classroom last year when I was trying to think of ways to inspire my students to perform acts of kindness through out the month of December.
This year, I've brought the challenge home- and you can too.
Here's what you'll need:
*A Big Frame (I used a 11×14 but you could use an 8×10 as well)
*Letter Stickers (I opted for glitter letters because, I wanted a little shimmer)
*Wrapping Paper… this is my favorite part because it really sets the tone for the whole thing. Make it sutle or bold and beautiful. I found the perfect roll of paper that brought the blues in my home and red together in harmony.
*Mini Clothespins (I bought mine months ago from TJ Max)
*Numbers/Colored Paper
Scroll down to see some suggestions of acts of kindness
Start with your large frame. Don't ya just love white frames- they are so versatile. Add your wrapping paper (just like wrapping a piece of cardboard) and then admire your mad wrapping skills!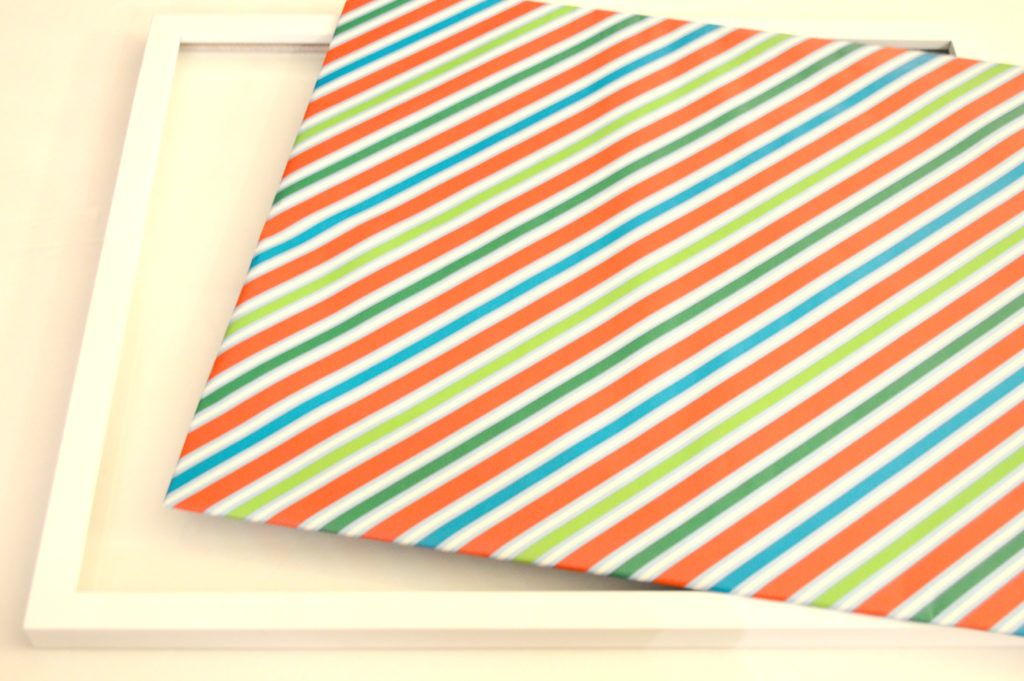 Think of your tag word. I had a couple in mind, and finally settle on "merry" because, well- it worked with the letters I had and we all know sometimes ya gotta work with what ya have, right!
I thought it was a twist to add it to the side instead of a traditional title at top. Figure out what works best for you. I applied the large letters directly on top if the glass because I wanted a layer look.
Next, you'll want to layout your clothespins and numbers. I always like to lay things out before I glue them, I've learned the hard way- poor planning can be a project killer.
Once everything is spaced to your liking, hot glue those oh so cute mini clothes pin down on top of the glass.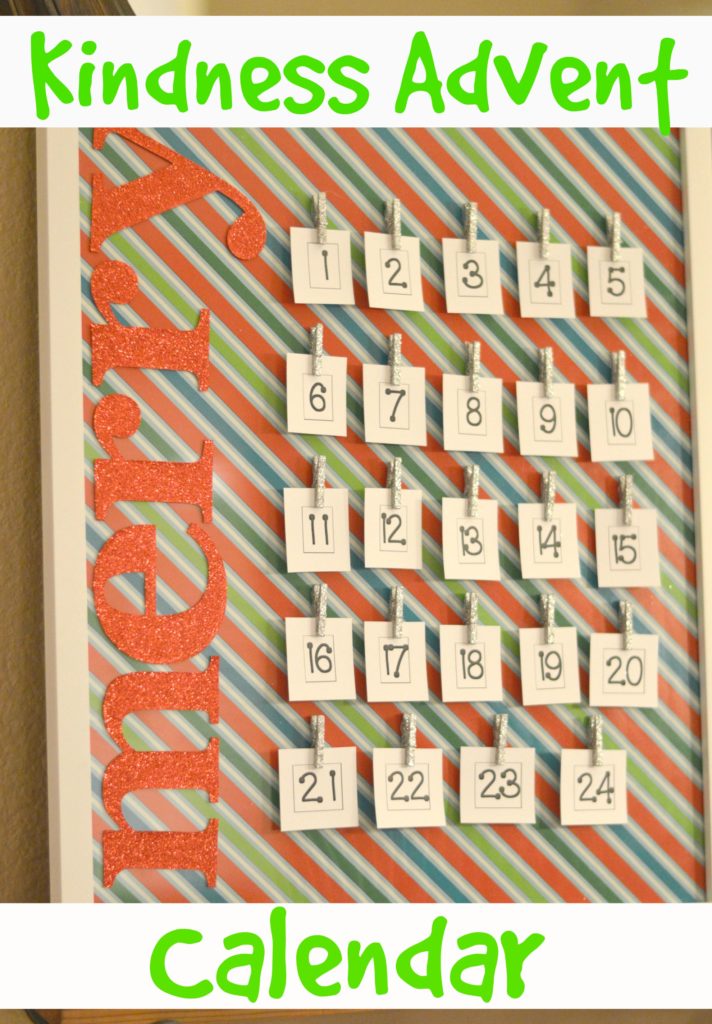 Now here's the best part, brain storm ideas for your family to show kindness! Think BIG and SMALL, so you can randomly mix it up.
Here's some ideas
-Buy a meal for a homeless person
-Do a household chore for a family member
-Pay for the person's food/drink in the car behind you in the drive thru
-Donate a bag of bones or toys to the animal shelter
-Text someone a bible verse and let them know you are praying for them
-Pick a trusted charity and donate $10 (or more)
– Offer someone a 5 minute neck massage
-Take a person's name from an angel tree and buy them a present
-Go to the beach or park and pick up trash
-Donate clothes you out grew to Salvation Army, or Goodwill
-Let someone else choose the family movie for Friday family date
-Hand select some winter warmth (hat, gloves,jacket or blanket) and find someone who could use it
-Give the dog a walk twice as long as you normally do
-Sign up to volunteer your time
-Gather up old books and donate them to your local library or school
-Make cookies and share them with your teacher or co-workers
-Surprise…keep you eyes open today and find a way to show kindness
By having ideas written down it really does help you focus and commit to simple, manageable ways to share kindness and joy.
If you have more ideas, I'd love to hear them!