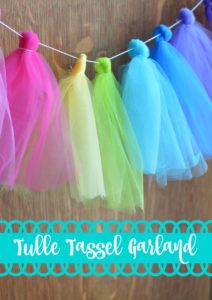 We have a birthday coming up- aren't birthdays the best! In our family, that means decorating, and more decorating. After all, it's a special day to celebrate! This year we're planning a big party so I'm started on the prep early.
I love the look and whimsical feel of tulle, so I went shopping. The best part- it's so inexpensive!
Supplies needed:
*Any color tulle- I bought 1/2 yard of each color.
How long you want your garland, will determine how much tulle to buy.
*String/yarn
*Scissors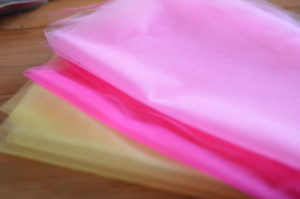 Step 1
Measure out the length of your first tassel. Mine were about 7-8 inches long and 5 inches wide. Stack 4 pieces on top of one another and start cutting.
Best to make them a little longer, as you can always trim them down if you need too.
Step 2
Grab the middle of the stack and begin to twist. After twisting, wrap it around in a small circle. I had some white string handy so that's what I used but pipe cleaners could also work.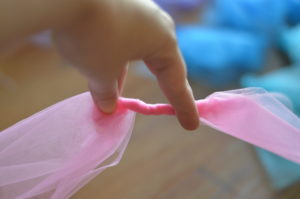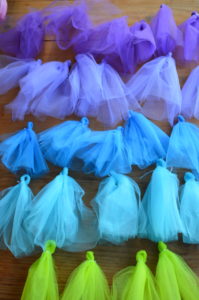 Step 3
When you have all your tassels cut and put together, it's time to string the garland. You can use a thicker yarn/rope to keep the tassels in place or use a thin string, which will cause them to gather in the center. I liked this look 🙂